If your hardwood floors have lost their luster, if they seem covered in scratches or marred by water stains, we have good news for you. We are your solution for hardwood refinishing services that can erase the minor damage that has occurred over the years to make your once-beautiful wood floors look gorgeous again. Serving the Philadelphia region, Castle Wallpaper & Blinds can set you up with the local hardwood floor refinishers you can rely on for outstanding results. Call or e-mail us to get started today!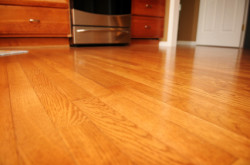 At Castle Wallpaper & Blinds, we offer a wide selection of new flooring products for sale, but that's not all. We understand that many property owners aren't looking for new floors; instead they're looking to refinish the hardwood floors they already have. That's why we are proud to work with seasoned professionals when it comes to wood floor refinishing. We'll connect you with qualified experts for hardwood floors refinishing to bring back the luster of your wood floors. Unlike hardwood flooring refinishing companies that use ineffective, "dustless" sanders, these professionals rely on ample experience and effective traditional sanders to reverse the effects of spills, wear, and much more.
These hardwood floor refinishing services revitalize existing wood flooring by:
Restoring luster and gleam
Erasing ridges caused by minor water damage
Eliminating scratches
Returning planks to a smooth, like-new finish
We can help you with both residential and commercial wood floor refinishing, so don't hesitate to call or e-mail us at Castle Wallpaper & Blinds. Our goal is to assist you in getting the beautiful floor of your dreams, whether that's through oak floor refinishing or new engineered flooring installation. Contact us now to get started!
Commercial Hardwood Floor Refinishing
For businesses, the image you project to the public can affect your reputation, impacting your bottom line. That's why it's critical to keep your floors looking great. Thorough cost-effective options such as hardwood flooring refinishing, you can maintain the appearance of your business without breaking the bank. If your wood floors are looking scuffed, faded, or scratched, call Castle Wallpaper & Blinds today. We can connect you with the hardwood floor refinishers you need to restore the beauty of your floors!
Hardwood Floor Installation
In addition to wood flooring refinishing, the Castle Wallpaper & Blinds team can also help you out with hardwood installation. We work with a team of professionals who can assist with hardwood floor installation in residential and commercial buildings in Philadelphia. Come to us for your top-quality hardwood, prefinished, and engineered wood materials, and we'll match you with the expert wood floor installers for accurate hardwood installation.
Ready to install a wood floor and enjoy the timeless beauty and lower maintenance that this flooring brings to your space? Castle Wallpaper & Blinds is just a phone call away.